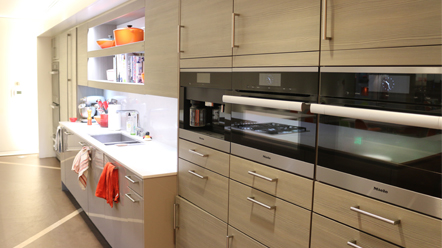 Le Creuset L'Atelier
The Le Creuset L'Atelier, French for workshop, is the on-site test kitchen and demonstration space for the iconic, 90 year old brand. Housed in its U.S. marketing headquarters on the banks of the Ashley River in Charleston, SC, the welcoming space features state-of-the art built-in appliances from Miele, including both induction and gas ranges, in an overall kitchen design by SieMatic. The L'Atelier serves as a hub for recipe testing, content creation and various on-site entertaining such as Le Creuset's Guest Chef Series, a monthly ticketed event that gives guests the opportunity to learn, dine, be inspired by an have fun with some of the country's best chefs.
About Le Creuset
For nearly a century, Le Creuset premium cast iron cookware has been trusted in kitchens around the world for its superior performance, lasting quality and iconic design. With a traditional sense of craftsmanship and hands-on attention to detail, the artisans at our Fresnoy le Grand foundry have kept chefs and culinary enthusiasts in mind, and their work reflects the real demands of a working kitchen. Our product lines are crafted to achieve optimal weight and heat retention properties. Le Creuset cookware is versatile, ergonomic, extremely resistant to wear and tear, and guarantees excellent cooking results.
Le Creuset's Stainless Steel cookware is elegantly crafted by European artisans for superior performance and lifetime luster. A full aluminum core delivers even heat distribution, while a titanium-infused stainless steel exterior effectively prevents scorching and discoloration over time. The Stainless Steel set is optimized for all cooktops, including induction. Benefits include Stay-Cool Handles, Interior Capacity Markings, Steam Vent, Dripless Pouring Rim, and Dishwasher Safe.