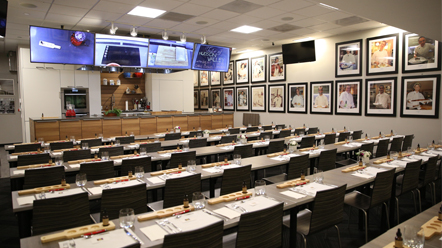 Over the course of its thirty-seven-year history, De Gustibus Cooking School by Miele has become a nationally lauded culinary institution, beloved for bringing over 1,300 of the world's most reputable food and wine experts to the eighth floor of Macy's Herald Square. Founded in 1980 De Gustibus is a culinary destination for New York food lovers and visitors alike.
Classes are held in a state-of-the-art kitchen designed by Warren Red with appliances by Miele and cabinetry by Poggenpohl. The school can accommodate up to 70 guests for a truly unique experience where participation is highly encouraged, as they watch the host chef prepare dishes, ask questions, sample the 5-course menu, sip on carefully selected and paired wines, and take home recipes to recreate at home.
Since its inception, De Gustibus has procured leading food and wine experts such as Daniel Boulud, Anthony Bourdain, Mario Batali, Lidia Bastianich, Bobby Flay and Rachael Ray. The pantheon of chefs who have graced the school and paved the way for new talent, is proudly displayed on the school's gallery wall.
De Gustibus is located at 151 West 34th Street on the eighth floor of Macy's Herald Square.